Employee Satisfaction Survey Template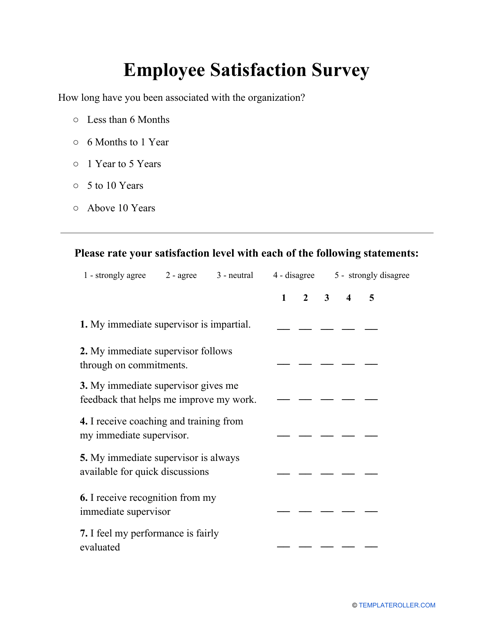 What Is an Employee Satisfaction Survey?
An Employee Satisfaction Survey is a document which companies use to evaluate the satisfaction level of their employees. The purpose of the survey is to gather workers' opinions about their place of work, which will later be analyzed to understand how fulfilling their work is.
The document can be developed by the business itself or by companies that specialize in evaluating services. It represents a form of employee feedback, in which a hirer can get a response from their workers and find out what they like or would like to change in their work.
Another form of employee feedback, an Employee Suggestion Form, can be used in combination with the survey. It can specify what exactly an individual would like to change at work, by gathering exact recommendations. A printable Employee Satisfaction Survey template can be downloaded through the link below.
Why Do an Employee Satisfaction Survey?
The Employee Satisfaction Survey results show the gratitude level of workers. Generally, the more satisfied employees are, the higher their work performance will be. The company can gather information about how happy their workers are with their healthcare program, vacation plan, compensation, etc. It helps to understand which spheres need to be developed better and what should be improved first, stating the priority among other things.
However, the survey leads not only to improving work-related issues but also to happier customers. If employees work directly with clients, it is especially important to keep an eye on their level of fulfillment. Businesses that work with retail should consider it a necessity.
Comparing surveys from different time periods (for example, annual surveys), a company can see if they made any progress in improving their working environment. If employees keep on mentioning the same problems over and over again, it means that the problem was not solved and it deserves more attention.
How to Do an Employee Satisfaction Survey?
The survey should contain a list of questions that employees are supposed to answer. However, its success depends on what kind of questions an employer is going to ask. An Employee Satisfaction Survey questions may include:
Does an employee enjoy the company's culture?
Do they find their work meaningful?
Are the key responsibilities clearly defined to you?
Does a worker think that their feedback is important for the business?
Does a worker think they are well-paid for the work they are doing?
Does the company offer good professional development opportunities?
Besides the mentioned above, a survey should follow a certain structure. However, businesses can change the structure of the document due to their needs and the circumstances of the situation. An average survey should include the following:
Title. It is up to a business how to form their document, nevertheless, in most cases, a document starts with a title, information about the company conducting the research, and its logo.
Introduction. Here a business should state that the survey is anonymous and an employee should not put their name or signature on it. One of the main features of the survey is that all data should be collected anonymously.
Main Body. This is the biggest part of an application, where a company lists all of the questions they want their workers to answer. The questions should not be connected with the employee's personality and should not be formed to give out their name or anything that might help to detect them.
Conclusion. In conclusion, a company should express their gratitude to their workers for participating in the survey and helping the company to improve.
---
Still looking for a particular template? Take a look at the related templates below:
Download Employee Satisfaction Survey Template