Sales Action Plan Template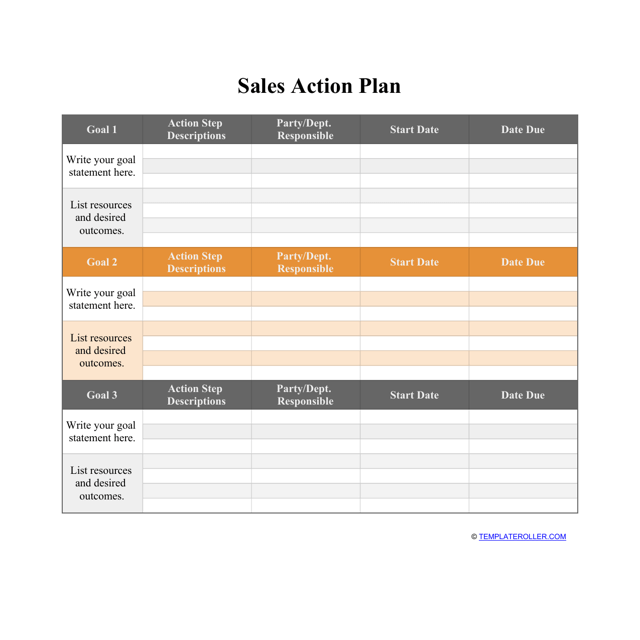 Fill PDF Online
Fill out online for free
without registration or credit card
What Is a Sales Action Plan?
A Sales Action Plan is a document that contains a company's sales goals for a certain period of time. The purpose of the document is to set goals that a business is supposed to reach, mark the time period that it will take to reach them, and describe the processes the business is going to use to achieve those goals.
A sufficient Action Plan to increase sales can be made after a company has conducted thorough market research, examined their past sales, investigated their potential and current customers, and strengthened their development strategies. A printable Sales Action Plan template can be downloaded below.
How Do You Write an Action Plan for Sales?
Writing an Action Plan for sales is a time-consuming process, which requires a lot of preparation. A successful document can help a business avoid the majority of problems and challenges, increasing the number of sales, and opening new ways for development. The plan should clearly state the goals that must be achieved and the directions on how to achieve them. Its content can be divided into several parts, which include the following:
Introduction. In the first part of the document, the filer should provide the name of the document, and information about the assigned representatives who developed it. It can help in case there will be any questions regarding the content of the plan.
Developmental Objective. The filer should state the main goal that is supposed to be achieved while performing this plan. If there are several of them, then they all should be stated here, and each one of them should be followed by a list of steps that should be taken in order to reach the goal.
Action Steps. This part of the document should be divided into sections, each of them will describe a separate step that employees will need to make to achieve the final goal of the objective mentioned above. Here, the plan must provide information, such as:

Action. Filers should describe the particular step that needs to be made, which actions it includes, how it can be done, etc.;
Deadline. The time period within each step should be completed should be stated as well;
Assigned Employee. The filer should enter the name of an employee or a department that is responsible for fulfilling the step;
Required Resources. If there are any resources that should be provided, the filer should designate them in this section;
Outcome. This part is supposed to sum up the results that each step led to;
Notes. The filer should report any kind of information that can be later found valuable.
The duration of the plan can vary. Some companies find it more efficient to use a 90-day Sales Action Plan, others prefer to use a one year plan with milestones. If a company cannot decide what kind of plan will work best for them, they can arrange a meeting with a business consulting company that provides services in this sphere. Their consultants usually have comprehensive knowledge in this subject and can help with choosing what is best, or developing a plan for them.
---
Still looking for a particular template? Take a look at the related templates below:
Download Sales Action Plan Template