Telecommuting Agreement Template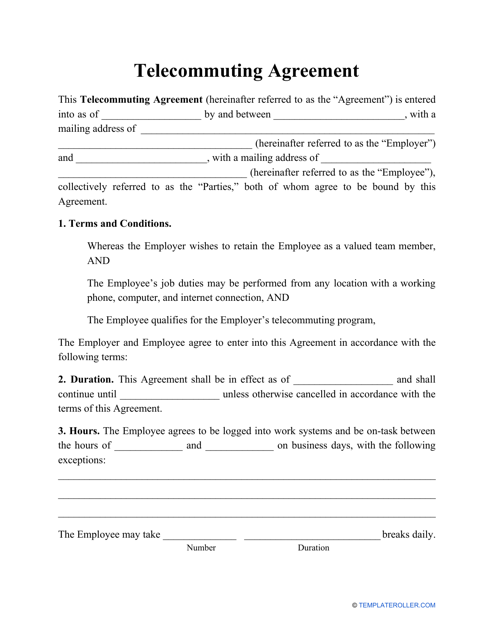 Fill PDF Online
Fill out online for free
without registration or credit card
What Is a Telecommuting Agreement?
A Telecommuting Agreement is a contract between an employer and their worker that enables an employee to work at a place different from the primary business location and helps an employer reduce their costs. This agreement is usually signed with reliable employees who may work without supervision, know their responsibilities, and can manage their time.
Alternate Name:
Employee Telecommuting Agreement.
This contract contains guidelines and policies of the telecommuting work, states the work hours of the employee, and the location of their workplace. An Employee Telecommuting Agreement also includes the conditions of pay, leave, overtime, and attendance, specifies terms of use of business-owned equipment and records, involves liability and reimbursement statements.
A Telecommuting Agreement template can be downloaded below or you can make your own using our online form builder.
How to Make a Telecommuting Agreement?
A Telecommuting Agreement Form must provide the following terms and conditions:
Indicate the parties of this agreement. Enter the legal name of the employer and the name of the worker.
The duration and dates of the agreement should be indicated.
Indicate that working hours, attendance, and leave of this worker will be paid in the same way as at the primary business location.
State that signing this agreement obliges the worker to follow the previously established procedures for requesting and obtaining leave.
Indicate that this person, while working in their home office, will continue to receive their previous assigned salary. Overtime working hours under a prior authorization will be paid under all applicable laws.
Specify which business equipment the employer will provide to their worker for telecommuting work. Indicate that this business-owned equipment has to be protected against damage and unauthorized use. Specify the terms of delivery and maintenance of this equipment.
State that the employer is not responsible for any damage that may be caused to the employee's property used in performing telecommuting work, and for any operating costs, utilities, and home maintenance of the worker.
Specify how this person will receive work assignments, submit completed tasks, and how the organization will evaluate their performance.
Indicate that the worker must take precautions to protect the employer's documents, computer files, and correspondence from any unauthorized disclosure or damage.
Enter the conditions of termination or reduction of the term of this agreement. Specify the period when this person must return to the primary workplace.
Signatures. The employee and their supervisor should sign the form and enter the date of completion.
This contract usually contains an additional attachment, reflecting the details of the telecommuting procedures. Provide information about the primary business location and telecommuting location. The number of working hours and work location, approved for the employee to perform their work, should be indicated here. The worker should sign this attachment and enter their name and address.
---
Haven't found the form you are looking for? Take a look at these related forms and templates:
Download Telecommuting Agreement Template