Rent Receipt Template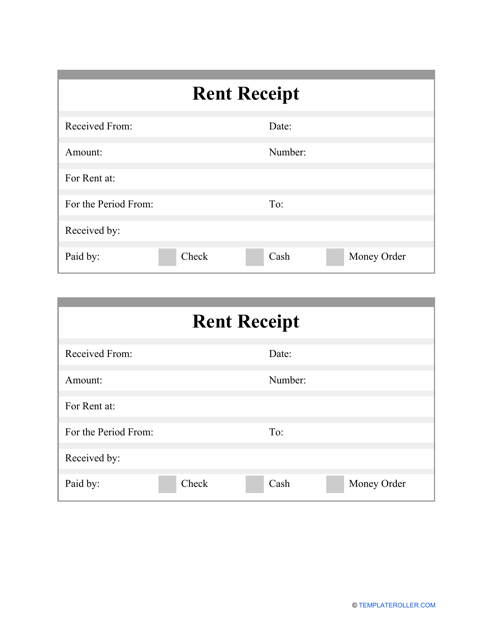 Fill PDF Online
Fill out online for free
without registration or credit card
What Is a Rent Receipt?
A Rent Receipt is a small document that states the weekly or monthly rent payment and confirms the payment was made. Whether you own or rent a residential property or commercial property for your office or store, it is highly recommended to print out and complete a Rent Receipt template to show consistent and timely payments. This document will serve as a basis for organized financial records especially for landlords who handle numerous payments each week or month and tenants who hope to claim tax benefits.
Alternate Name:
You can download a printable Rent Receipt template through the link below - customize it to create a Rent Receipt format suitable for your particular situation.
How do I Make a Receipt for Rent?
A Rent Payment Receipt is usually needed when the tenant makes a rent payment with cash, but you can draft it when the landlord receives money in the form of a check or money order. Only agree to fill out this document once the money has been transferred from the tenant to the landlord. You have to prepare a receipt every time you pay or receive rent, and you can include this requirement in your original rental agreement to make sure both parties are on the same page.
Follow these steps to create a Receipt for Rent Payment:
Indicate the receipt number - it will be easier for both parties to store receipts in chronological order.
Identify the tenant and landlord - it is enough to write down full names, but you can also add driver's license numbers for extra protection, especially if your names are common.
State the amount of payment and the payment method - you may choose to give and accept cash or agree to an online payment which creates even more evidence to protect your interests.
Record the actual date of payment.
Enter the rental period and the location of the property being rented.
Sign the receipt and give it to the other party to check and sign. You should make two copies of the Rent Receipt so that both landlord and tenant have an additional paper trail that verifies the payment in case of disagreements or disputes. Note that this document is considered valid when it has all the components stated above - if you fail to add this information to the receipt, it might not be accepted by authorities and courts as accurate evidence.
Should I Get a Receipt for Rent?
A landlord should prepare and sign a Rent Payment Receipt to keep track of all payments, especially if they have to deal with multiple tenants, rental units, and large sums of money. Properly drafted Rent Receipts also give proof of payment to tenants who keep these documents in their records and manage their finances and expenditures. Complete a Rent Receipt for the following reasons:
Obtain proof of payments that cannot be verified otherwise and are only supported by eyewitness accounts;
Comply with the requirements of your state or county - you may have a legal duty to generate a paper trail of rent paid and received;
Manage your accounting records - you can draft a Rent Receipt Book to see all payments you receive every week or month;
Claim income tax benefits using House Rent Allowance (HRA). Tenants who pay rent may lower their taxes if they submit proof of payment of rent to their employer;
Minimize potential disputes with another party if they ever claim they made a payment you did not document or choose to ignore a payment made on time. It comes in handy when the landlord tries to evict their tenant by claiming they did not receive their rent on time - in this case, the tenant can prove the property owner wrong by demonstrating Rent Receipts. Since you also include a payment date in your receipt, it prevents the landlord from suing you for outstanding payments.
---
Haven't found the template you're looking for? Take a look at the related templates below:
Download Rent Receipt Template