Generic Bill of Sale Form - Hawaii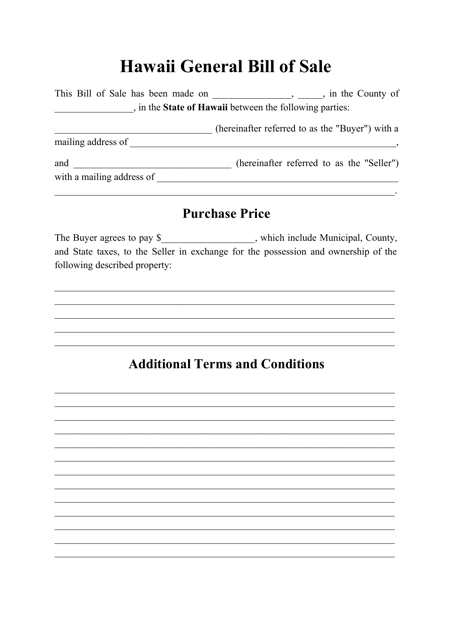 What Is a Hawaii Generic Bill of Sale?
Hawaii Generic Bill of Sale is the document you create to record a sale of different items. It is often used to sell or buy the personal property or in the case when no specific form is available. This document corroborates the change of ownership and serves as legal proof of the deal.
Alternate Names:
Bill of Sale;
Generic Bill of Sale.
If you need a Hawaii-specific Generic Bill of Sale, download it through the link below. As an alternative, you are welcome to build your personalized document with our customizable online form.
Does a Bill of Sale Have to Be Notarized in Hawaii?
Generally, you do not have to notarize Hawaii Generic Bills of Sale when selling any personal property. However, it is recommended that both the seller and the buyer should sign the document before the notary public who can certify their signatures. This step will add validity to your agreement and secure an extra layer of protection of your lawful claims.
Is a Bill of Sale Required in Hawaii?
Hawaii laws do not require you to fill out a Bill of Sale when buying or selling any minor personal items. Though you are not obliged to fill out any Bill of Sale when selling personal property, both the seller and the buyer often prefer to complete it for additional protection. For the buyer, this document serves as a purchase receipt that contains the price and the description of the bought item. It is a legally binding agreement that proves the rights of the new owner.
The sellers benefit from signing this document as well. The Bill of Sale releases them from the liability for the use of the sold item since the date indicated in the document. The clause stating that the buyer takes the described good "as-is" will protect the seller from possible fraudulent claims of the buyer.
---
Related Templates and Forms
Download Generic Bill of Sale Form - Hawaii