Boat Bill of Sale Form - Kentucky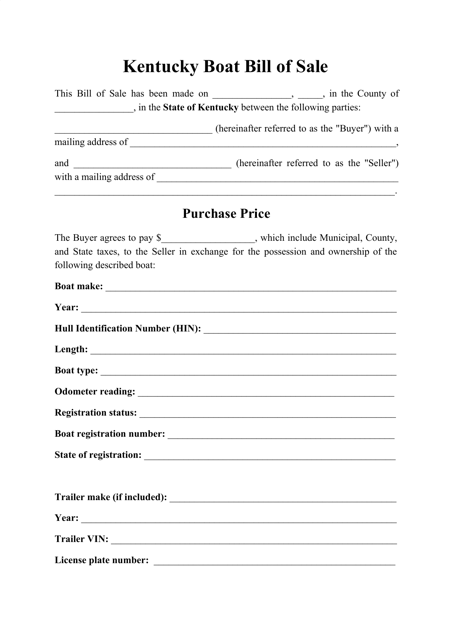 What Is a Kentucky Boat Bill of Sale?
A Kentucky Boat Bill of Sale is a document you complete during the sale or purchase of any type of watercraft in the Commonwealth of Kentucky. It is used to record the fact of a boat transfer from one party, usually referred to as the seller or transferor, to another, known as the buyer or transferee. The document contains important details of the specific deal, like the names of both parties, a description of the sold boat, sales price, and date of transfer. The Bill of Sale is an optional document, but both sellers and buyers often prefer to complete it in order to have a purchase receipt and material evidence of the deal.
Alternate Name:
Kentucky Watercraft Bill of Sale.
Kentucky does not have any state-issued form you can use to document the sale of your watercraft. Fill out any basic template with information regarding your deal, and it will be considered as a legally binding agreement. You can download the Kentucky Boat Bill of Sale form through the link below or create a personalized form with our form builder .
How to Sell a Boat in Kentucky?
Selling a boat in Kentucky is a simple process that does not require a lot of paperwork. The first thing you as a seller have to take care of is to make sure that the watercraft you are selling is free from any liens. The two main documents you must complete to finish the transfer process are the Boat Title and Form TC 96-184, Motor Boat Transaction Record/Application for Registration and/or Title.
The buyer takes a picture ID, the assigned title, Form TC 96-184 and applies for boat registration at a County Clerk's Office. If the Boat Bill of Sale is used for registration, the new owner must provide a picture or a pencil tracing of the hull number as well.
A properly completed Kentucky Watercraft Bill of Sale should contain the following information:
Information that allows identifying both parties of the transfer: the full names, physical addressed, and ID numbers;
Full description of the vessel you are selling: the make, length, color, year, hull number, registration ID number, odometer reading in hours, title number, and other important details;
Information about the trailer and outboard motor. If any of them is included in the present transfer, add one more section containing their description;
Purchase price. Usually, the price you agreed upon should be indicated both in words and in digits. If you are giving your watercraft as a gift, specify it;
Date of the transfer;
Additional information. If you and the buyer agreed upon any special conditions, describe them on the document;
Signatures of both parties involved;
Names and signatures of two witnesses;
You should prepare the document in two original copies. One remains with you, and the other one goes to the buyer.
Does a Boat Bill of Sale Have to Be Notarized in Kentucky?
Yes, in order to be accepted by a local County Clerk's Office, this document must be signed in the presence of a notary public and certified properly. If you sell your boat to an out-of-state resident, notify your county clerk about it, and specify the name and the state of the new boat owner.
---
Still looking for a particular form? Take a look at these similar forms below:
Download Boat Bill of Sale Form - Kentucky