Generic Bill of Sale Form - Mississippi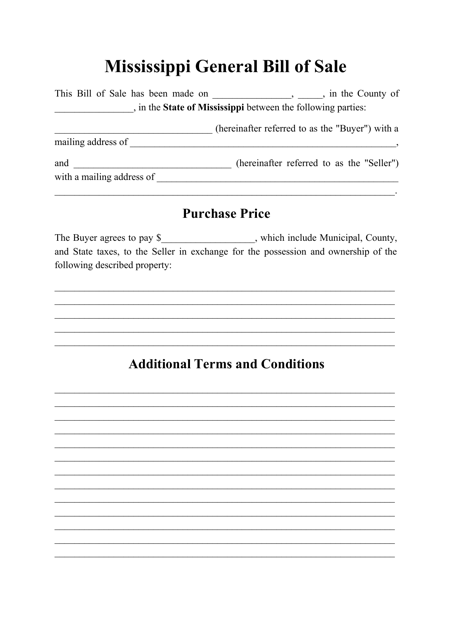 What Is a Mississippi Generic Bill of Sale?
A Mississippi Generic Bill of Sale is a legal document that provides information about the transaction with regard to the seller, purchaser, and the property being sold. This typed or handwritten legal instrument, sometimes with the registration certificate obtained for the purchased item, is generally enough to prove that the purchaser is now the new owner of the property.
Alternate Names:
Mississippi Bill of Sale;
Mississippi General Bill of Sale.
A properly composed bill of sale guarantees the authenticity of the item and serves as a receipt for both parties, which is especially important if the items are expensive. Also, it can protect both parties in the case of potential disagreements or disputes in the future since the form is recognized by the court of law. The document is legitimate if the parties have reached an agreement to exchange the property for a certain sum of money, have demonstrated their willingness to be bound to the conditions of the contract, and have proved their legal capacity to enter into a transaction of that nature.
There is no government-issued generic bill of sale in Mississippi. Nonetheless, you do not need a lawyer to draft the document. You may create your own bill of sale using our customizable template online or download a ready-made one below.
Do I Need a Bill of Sale in Mississippi?
The State of Mississippi does not require you to create a specific document to outline the details of the sale and purchase. However, you should draft a bill of sale if the seller wants a receipt of the sale and the buyer requests documentation of the purchase. Mississippi Bills of Sale can be used to sell and purchase personal property. During negotiations, the parties to the agreement may decide to alter the template to suit the specific details of the transaction in question.
Generally, a Mississippi Bill of Sale form needs to include the following information: the parties' full names and mailing addresses, description of the items in full detail (its make, model, color, size, distinguishing marks, customizations, and faults), date, location, and agreed price of the sale, warranties and special conditions to the sale, and signatures of the seller and the buyer. The seller should also confirm that the description of the property is accurate. If there are no guarantees or special terms, the item is being sold "as is" - in its current condition. After the papers are completed and signed, it is necessary to make copies for both parties. The seller retains a copy, while the buyer may need to use the original document to file for registration when visiting an appropriate department or agency.
Does a Bill of Sale Need to Be Notarized in Mississippi?
Notarization is not required with Generic Bills of Sale being generally used with not-so-valuable items.
---
Related Templates and Forms:
Download Generic Bill of Sale Form - Mississippi