Generic Bill of Sale Form - Iowa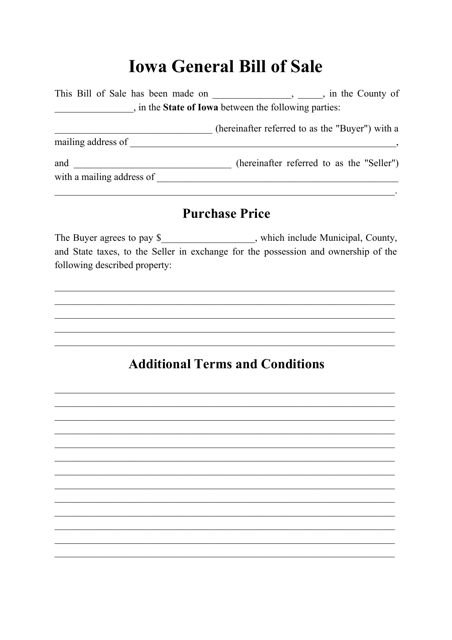 What Is an Iowa Bill of Sale?
An Iowa Generic Bill of Sale is a document used by private parties, individuals and entities alike, for the legal sale and purchase of personal property. It establishes the details of a transaction between a seller and a buyer stating the financial terms of the deal. To maximize the effectiveness of your document it is important to submit as many particulars of the deal as possible since it basically acts as a receipt or proof of purchase. A properly written Bill of Sale proves that the buyer now legally owns the property, and can also be used to determine how much sales tax must be paid. This document releases the seller from any future liability and protects both parties from future disputes. It guarantees the condition of the item along with its authenticity or history. Additionally, a Bill of Sale is recognized by a court of law if the parties drew up an adequate document.
The state of Iowa does not have a Generic Bill of Sale. Nevertheless, you do not have to hire a professional lawyer to draft a Bill of Sale for you - you can simply create your own document online with our customizable template or download a ready-made one below.
Do You Need a Bill of Sale in Iowa?
A Bill of Sale is completed if the seller wants to have a receipt of the sale and the buyer wants to obtain documentation of the purchase. It can be used to sell and buy personal items and during the negotiation process, both parties can decide to modify the template to suit the specifics and needs of their transaction.
The following information is needed to compose this document:
State the seller and buyer's names and residential addresses;
Describe the property in full detail (its identification numbers, model, make, design, color, size, distinguishing marks, faults or defects);
Provide the date of the sale, its location and the agreed price;
Mention and explain any guarantees or special terms and conditions of the sale;
Both parties need to sign the document.
The seller should also affirm that the description of the item is true and correct. After the papers are signed, it is highly recommended to keep copies for the buyer and the seller, not only for recordkeeping but also to avoid unnecessary problems or disagreements in the future.
Does a Bill of Sale Need to Be Notarized in Iowa?
While the state of Iowa does not require a notary for a Bill of Sale, your county treasurer may require this form to be notarized. Please contact your county treasurer before submitting this document.
---
Haven't found the form you are looking for? Take a look at these similar forms below:
Download Generic Bill of Sale Form - Iowa