Boat Bill of Sale Form - Wisconsin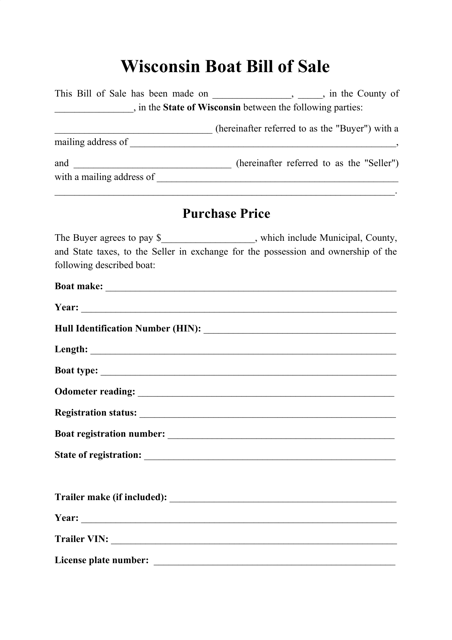 What Is a Wisconsin Boat Bill of Sale?
A Wisconsin Boat Bill of Sale is a typed or handwritten document composed to record the fact and specifics of a vessel transfer from a seller to a buyer. This legally binding agreement proves a watercraft has changed owners, releases the seller from any liability for the sold boat, and establishes the main details of the transaction.
Alternate Name:
Wisconsin Watercraft Bill of Sale
The state of Wisconsin does not provide you with any official form which may use to sell and buy a watercraft. However, any basic template is considered valid and accepted by all government agencies if all of the necessary information is stated. Download and complete the form via the link below or draft a new Wisconsin Boat Bill of Sale with the help of our form builder.
What Is Required for a Bill of Sale for a Boat in Wisconsin?
Follow these steps to sell a boat with Wisconsin registration:
Give the purchaser the boat's registration card - it has the owner's name and information about the boat. If the boat is 16 feet in length or greater, it also has to have a certificate of title, and the seller is required to assign the title on the backside of the certificate by filling out the buyer's name and address;
Complete the Wisconsin Boat Bill of Sale. It is not mandatory by law but you may use it later for tax purposes. Identify the parties, fully describe the boat, state the sales price and the date of sale, and sign the papers;
Notify the Wisconsin Department of Natural Resources (DNR) about the sale within fifteen days by sending details of the transaction to CSWEB@wisconsin.gov.
A new owner has ten days to apply for registration. It is necessary to do that prior to the operation of the boat. Register in person at a local DNR office or mail the information to the DNR Processing Center, PO Box 78701, Milwaukee WI 53278-0701. You need to submit the signed certificate of title and Form 9400-193, Wisconsin Boat Registration and Title Application. The latter document allows a purchaser to choose the correct fee for boat registration and compute the sales tax correctly. Every private party or dealer sale entails a 5% sales tax. This information is required by the Wisconsin Department of Revenue.
Does a Boat Bill of Sale Have to Be Notarized in Wisconsin?
Wisconsin does not require a notary for Boat Bills of Sale but it is generally a good idea to have notarization or witness to a sale in order to confirm the transaction has taken place. This can save any possible trouble that might occur if the seller or buyer contest the transaction at a later date.
---
Still looking for a particular form? Take a look at these related forms:
Download Boat Bill of Sale Form - Wisconsin